At 7:30 this morning, runners geared up in downtown Leadville to take on stage three of the TransRockies Run. With an elevation of 10,200 in Leadville, runners had some thin and chilly air to kick off their 24.4-mile journey to Camp Hale. After yesterday's climb up Hope Pass followed by a steep descent, the quads were feeling it today, yet runners continue to show toughness-both mentally and physically. At 8 a.m. sharp, the starting gun went off as the streets filled with spectators to cheer on the dedicated athletes. For those running the RUN6, today marks their halfway point. For RUN3 runners, today is the final day of their three-day journey.
Runners took off with a 2.5-mile warm up run out of Leadville. After those smooth, road miles were over runners hit the soft single-track trail beginning their first, and largest climb of the day– a three-mile continuous uphill. Once reaching the top of climb one, runners descended down a double track trail leading to the first checkpoint. Runners continued through Ski Cooper on rolling terrain making their way to Checkpoint two, which was a great spot for spectators to camp out and cheer for runners, giving added support and high-fives to the runner's on course.
After passing checkpoint two, the course featured two creek crossings–one of which staying dry was no option. The run to the final checkpoint was a scenic route on the Colorado Trail, eventually opening up to fields of blossoming wildflowers and rolling hills. After passing through checkpoint three at mile 21 the TransRockies finish arch at Camp Hale was in sight–just three dirt-road miles away! Spectators were ready to cheer in the runners.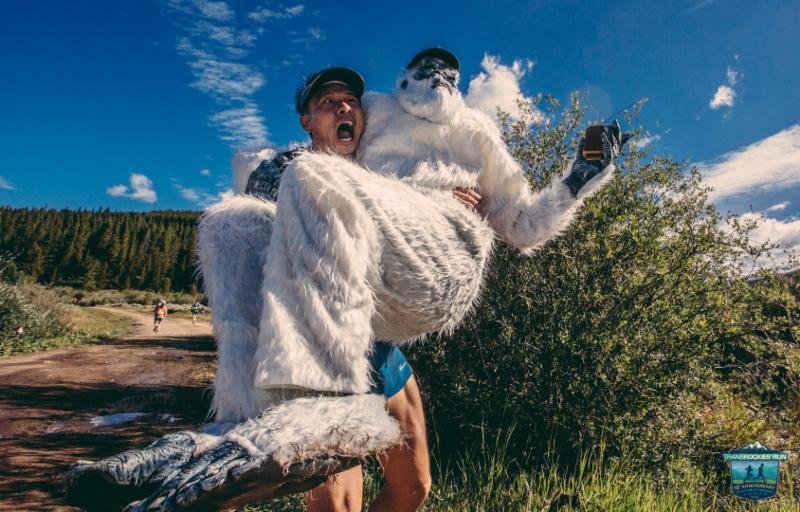 As finishers rolled through the arch, you could see the hard work, relief and joy in runner's faces and bodies. The rest of the afternoon was meant for relaxation and recovery as runners hung out at Camp Hale by the water, chatting about their race day experience. Tomorrow RUN6 racers will continue their six-day trek with stage four. With an 8am start from Nova Guides/Camp Hale, runners will travel to Red Cliff covering 14.2 miles and 2,800 feet of elevation gain.
The end of day three means we say congratulations and goodbye to all RUN3 athletes. They will continue to camp and hang out tonight with their fellow runners before taking off tomorrow morning. Thank you all RUN3 runners for a great 2016 TransRockies Run and we hope to see you all next year!